Over the years we have gained considerable experience in the fields of designing gas supply systems, mechanical and optical systems as well as vacuum chambers and combinations of these parts. Hence, we decided to offer our design and planning skills as a service. If you need anything out of the ordinary, feel free to contact us and we are happy to provide you with an offer.
We can offer designs for the following parts/devices:
HV and UHV vacuum systems
Gas supply units
Optical setups
Mechanical Systems (for vacuum applications)
Many more nonstandard parts
Here you can see some examples from our engineering department: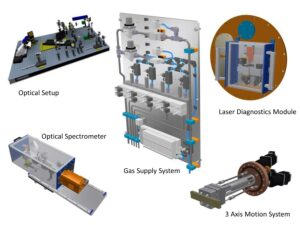 Whether big or small, it doesn't matter for us – we can design it and you even have the option to get a concise list with recommendations for all the parts you need and suitable suppliers.
Contact us now via jgruenwald@g-labs.eu or via +43 660 6924 350.
Furthermore, we offer our customers:
Quick and competent solutions for specific research problems
Strategic partnership to conduct national and international research projects
Basic research at the highest level